KUG professors Jim Rotondi and Renato Chicco perform semi-live concert online in quarantine!
This past Thursday evening, April 30th KUG professors/professional musicians Jim Rotondi (jazz trumpet) and Renato Chicco (jazz improvisation) gave a one hour talk to over 100 GIBS students in year 4 and up via Microsoft teams.  Although Jim and Renato could not perform together because of social distancing, they put together a few videos where they played together (recorded separately) specifically for this event.  Jim demonstrated the different 'mutes' used in jazz and spoke about his experience playing with legendary R & B icon Ray Charles.  Renato outlined some ideas about how to approach improvisation with some tips for students to try.  Both shared stories of what sparked their interest in jazz, and spoke about their musical influences.  It was as close to a 'live' concert as we could get this year!  The event was recorded and is available for GIBS students to view on stream in Microsoft teams.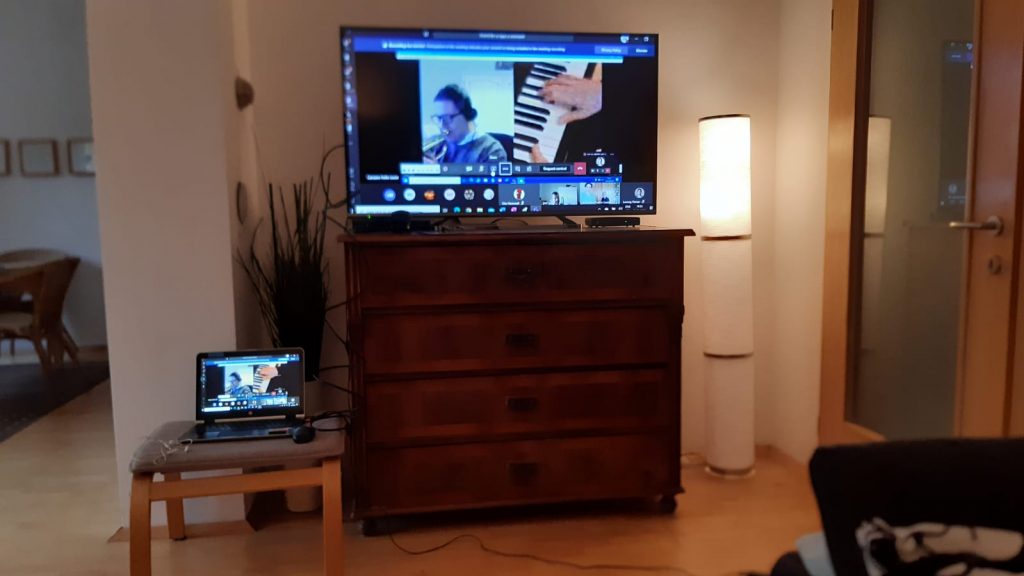 Vocalist Tanja Filipovic and bassist Milos Colovic online.
Vocalist Tanja Filipovic and bassist Milos Colovic performed a live and pre-recorded program for y7 and y8 students via Microsoft teams on April 1st.  Both are outstanding KUG jazz students and lucky for us – are quarantining together!  Students were treated to a program designed just for them which featured jazz standards like Body and Soul as well as Sassy's Blues and more.  Although just 19 years old, Tanja has already been featured in the Styriarte festival here in Graz.  Both Tanja and Milos have performed widely throughout Europe and are sure to rise to the top of the jazz scene in the years to come.  Excerpts from the 'concert' can be viewed on stream in Microsoft teams.